At present, Dropbox, Google Drive and OneDrive are becoming the most popular cloud storage for personal and business users alike. However, how do you choose which of them is the most suitable for your storage needs? If you are confused about it, this post is what you need. In this post, we will show you the detailed comparisons of Dropbox VS Google Drive VS OneDrive from different aspects.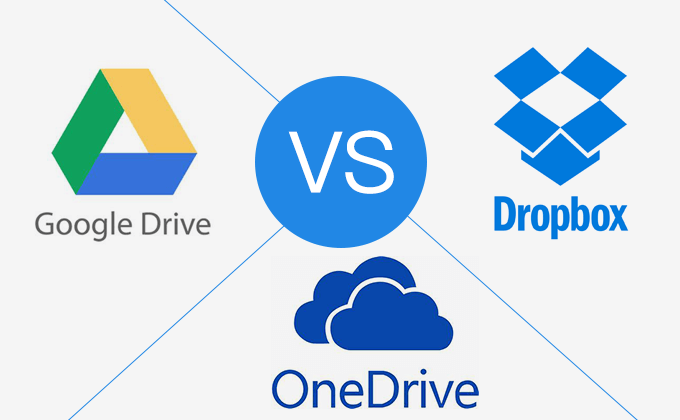 To make clear which one is the most suitable for you, we try  comparing these three cloud storage providers from the following aspects:
 Pricing and Storage
Security and Encryption
 File Synchronization
 File sharing
1. Pricing and Storage
When it comes to cloud storage, the first thing that you care about might be the pricing and storage. In order to make it clearer, we make a chart to compare.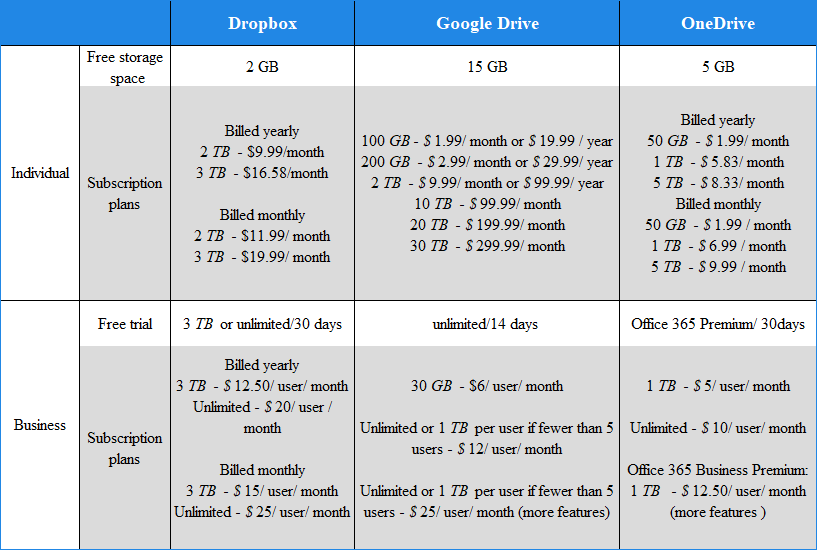 As we can see from the above chart, each provider has its own plans. Obviously, Google Drive does best in pricing and storage. Because it has more flexible options to choose. Additionally, its free storage is much more than others. On the contrary, Dropbox has only two choices and less free storage space. Onedrive is much better than Dropbox.

2. Security and Encryption
There is no doubt that security is one of the crucial factors for cloud storage. All the three cloud storage providers are trying their best to protect our privacy. More details are as follows.
Dropbox
Firstly, Dropbox features a two-step verification to prevent anyone from accessing your files. What's more, Dropbox protects your files in transit with the 128-bit AES encryption while at rest with the 256-bit AES encryption, which can ensure the security of your files. However, Dropbox pulls metadata to speed up file retrieval, which is a security concern.
Google Drive
Similar to Dropbox, Google Drive supports optional two-step verification and it encrypts your data both in transit and at rest. Google Drive extract metadata for indexing files as well. In addition, Google Drive uses laser grids and biometric scanners to enhance security. The worst aspect of Google Drive is the privacy issues. To remove illegal content and gather information about you, the Google can scan your cloud files.
OneDrive
OneDrive also encrypts your data in transit but it does not offer any file encryption at rest unless you have a Business Subscription. This will leave your files exposed and it might be a big issue for OneDrive.
In conclusion, Dropbox and Google Drive do well in term of security and encryption. OneDrive is worse due to the lack of at-rest encryption and security for individuals.

3. File Synchronization
Another key feature of cloud storage providers is file synchronization. When we make some changes on a cloud file, it will be updated on all the devices connected to your storage account.
Dropbox
The greatest difference of Dropbox sync is block-level file transferring. That means when you make changes on a file online, only the changes are synced online while the rest of data remains as it is, which speeds up the rate of sync. What's more, Unlike the other two platforms, Dropbox supports the Linux system.
Google Drive
Google Drive doesn't use block-level file copying so when the file is edited the speed of sync is much slower. But the speed of full-file transferring is much faster because it is supported by a global server network. And we can also create a Google drive-linked folder like Dropbox to access the cloud files conveniently.
OneDrive
OneDrive has block-level sync for Microsoft file types like Word, Excel and PowerPoint while it is not for other file types. So, the speed of sync depends on the file types. Additionally, since OneDrive is connected with Microsoft Office, sharing Microsoft files is much easier. You can also set the speed of sync by yourself.
In a word, Dropbox might be a better choice for file synchronization because it is so fast to update files. In terms of uploading files, Google Drive stands out. As for OneDrive, it is mediocre relatively on file sync.

4. File Sharing
File sharing is also an important factor of cloud storage provider. When it comes to the methods of sharing files, there aren't many differences among them. You can share your files or folders by creating a shareable link or emailing a particular person on these three cloud storage providers. In addition, you can also permit the shared files to be either viewed-only or edited before you share.
Dropbox
Firstly, Dropbox Professional and Business customers can set passwords and expiration dates for the shared link, which can ensure the security and privacy of the shared files. Besides, you can invite others to upload files to your Dropbox, even if they don't have an account. You can also review shared files and disable shares on the Dropbox sharing page.
Google Drive
There is another option that allows the users to add some notes to the files or folders on Google Drive. The entire folders can be shared on Google Drive as well. However, the most troubling issue for Google Drive is that there are no options for passwords, expiry dates or download limits.
OneDrive
OneDrive has options for passwords, expiry dates and download limits of the shared files while it is free. You can also review shared files on OneDrive sharing page. What's more, you can audit the activities on the shared files.
On a whole, Onedrive might be the most useful file sharing platform among them. Google Drive is worst for a reason that there are no options for links passwords, expiry dates or download limits.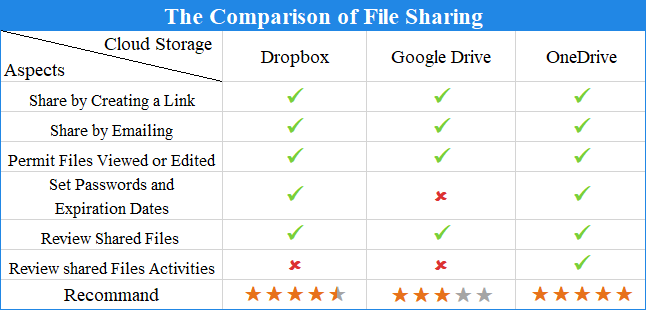 Conclusion:

All in all, these three cloud providers are outstanding on the whole and each of them has its own strengths and weaknesses. Besides, there are also other useful cloud storage providers and you can choose the most suitable one for your needs.  The above are only reference and everyone has his own views. Besides the contents mentioned above, if you have more thoughts on cloud storage, share with us anytime!
---
Related Articles: