If you are confusing about how to clone HDD to SSD for a larger use space and smoother user experience, you are in the right place. In this article, you will get the pretty easy and safe way to clone HDD to SSD in Windows 7/8/10 laptop, whether it is 32-bit or 64-bit operating system.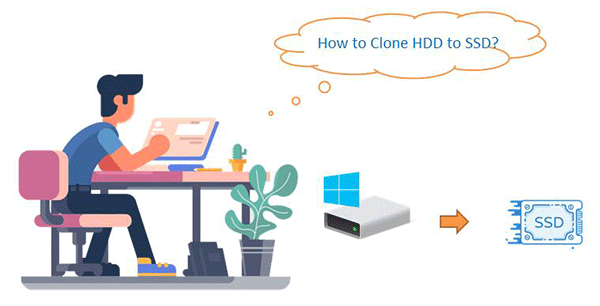 What do you need for HDD to SSD clone?
A larger Solid State Disk –SSD that is suitable for your PC.
No matter it is Toshiba or Samsung SSD, you need to make sure that it has enough space for your HDD system and data. As for the SSD choosing, you can refer How to Choose the Right SSD for Your PC.
The installation of SSD.
If you have a SSD on hand, you should make it connected with the laptop. Then, initialize it and add new volume for it. It is better to make the SSD with the same volume as your HDD if you want to replace the HDD with SSD later.
The clone HDD to SSD software –CloneGo.
Just as the name implies, CloneGo, the free HDD to SSD clone software, helps everyone go to clone the HDD in the simplest and safest way. It enables you to do a complete 1-to-1 partition copy in case anything goes wrong. You can apply this software to clone HDD to any SSD; no matter it is the famous brand or the cheapest one.

How to clone HDD to SSD with CloneGo?
With this HDD to SSD clone software, you will never in trouble of losing data or reinstalling the Windows 7/8/10 system on 32/64 Bit computer. Just a few clicks help you to copy one partition from HDD to SSD. You can copy the whole HDD partition to SSD one by one. Now let's see how to clone one partition data from HDD to SSD within 3 steps.
Step 1: Open iSunshare CloneGo software and choose "Copy".
Step 2: Select the source partition from your HDD and the destination partition from your SSD.
Step 3: Click "Start" and read the notice. Next, Click "OK" and wait.
In no time, you will get one partition clone from HDD to SSD. You can repeat the 3 steps to get the entire HDD clone to SSD and make the identical partitions in SSD. After all are done, you can boot the computer from SSD and enjoy a better working environment.
---
Related Articles:
How to Buy a Security and Good Performance SSD
5 Cheapest SSDs Review in 2019
[No OS Reinstallation] How to Migrate Windows 10 to a New Hard Drive
Copy One Hard Drive to Another with Windows Partition Backup Software