Forgot admin password for ThinkPad laptop logon, which is pre-installed with Windows 8 and UEFI boot mode?
This article will guide you to reset forgotten Windows 8 admin password with Windows Password Genius for ThinkPad laptop with UEFI BIOS.
If you have learned Windows Password Genius, you would know only the Advanced version could create a UEFI bootable password reset disk for Windows 8 admin password reset. So please get exe file of Windows Password Genius Advanced full version and install it on accessible computer. Be ready to create UEFI bootable disk with CD/USB drive, boot ThinkPad laptop from bootable UEFI drive, and reset administrator password at last.
First, create UEFI bootable disk with CD/USB drive.
After running Windows Password Genius Advanced on computer, you would find the program can be burned into bootable and blank CD or USB drive. Actually, it is the Windows Password Genius IOS image file burned to CD /USB drive. The burned disk enables you to reset Windows password even when computer is locked or user account is locked, or disabled.
User guide of Windows Password Genius Advanced: http://www.isunshare.com/windows-password/windows-password-recovery-advanced-guide.html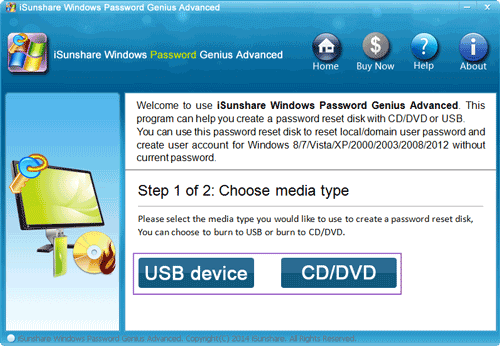 Second, set ThinkPad laptop boot from UEFI bootable disk.
Insert the CD or USB drive into locked ThinkPad laptop, power on the machine and press F12 to enter BIOS. Navigate to the Startup tab. Change the UEFI/Legacy Boot option from UEFI to Both, and set the UEFI/Legacy Boot Priority option to Legacy First. Press F10 to save your changes.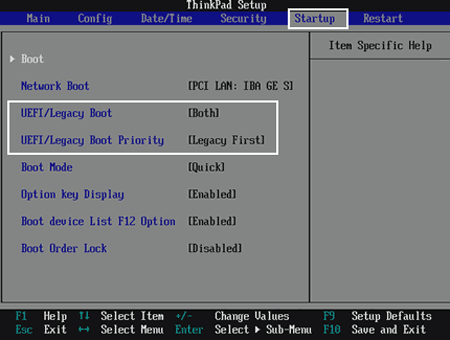 When the computer restarts, quickly press F12 key repeatedly until you see the Boot Menu. Then choose CD or USB drive you've created bootable disk in Boot Menu. Windows system will load some required files, such as SAM registry file, preparing for password reset operation.
Third, reset forgotten Windows 8 admin password for ThinkPad laptop with UEFI BIOS.
Once you are presented with iSunshare Windows Password Genius Advanced window, please select the administrator in user list, and click on Reset Password button. Then administrator password will be blank. Or if you choose Microsoft account in user list, Microsoft account password will be reset as "iSunshare@2012".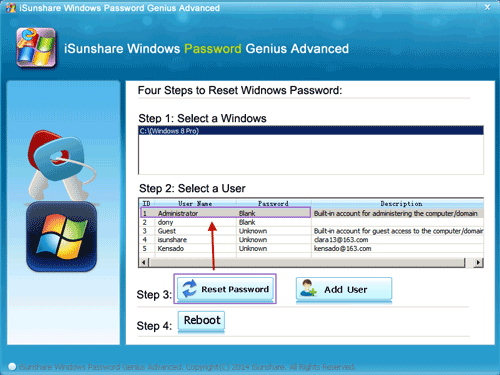 Tips: You can select any user account in user list and reset its password. And create new user with admin privileges with "Add User" button.
So simple it is. Restart laptop and exit bootable disk. And remember to reset Legacy back to UEFI in BIOS setup, otherwise windows 8 will fail to boot. Now Windows 8 restarts and you can successfully unlock ThinkPad laptop pre-installed with UEFI Boot mode.
Related Articles: