Resetting forgotten password on domain controller is a peace of cake. The following ways are enough to help you solve the most of cases that you forget password in windows server 2016/2012/2008/2003 system on Dell/HP/Lenovo server computer.
1. Reset domain admin password via Windows setup disk
This is a free way, and is not as easy as the second way, but you are able to see and control every step you do.
Steps as follow:
First, go to Microsoft official site, and download DVD/USB Download Tool, then use DVD/USB Download Tool to create a DVD or USB installation disk.
With DVD/USB Download Tool, you are able to create a Windows 7, Windows 8, Windows 10, Windows 2008, Windows 2012 or Windows 2016 setup disk. I recommend you create a Windows 10 setup disk, because the Windows 10 setup disk work fine with most of old or new computer.
Next, boot the domain computer from the Windows setup disk.
Next, when the Windows setup program starts, choose repair windows, and then go into command prompt.
Next, on command prompt, run the following command.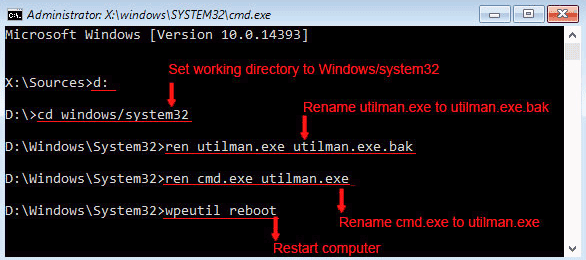 Next, on login screen, click "Easy access" ico on right bottom to run command prompt, then use net user command to reset the forgotten password for administrator account.
Note: The password must contain lowercase, uppercase, number, and must be longer then 7.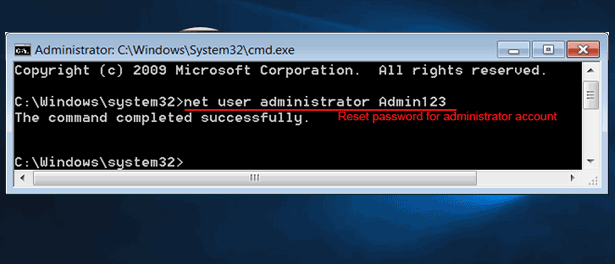 Last, close the command prompt, and login with the new password.
Note: You must run setup program and go to command prompt again, and undo the rename operation.
2. Reset domain controller  password with iSunshare password software
In general, domain controller and windows server are deployed on raid computer, so I recommend iSunshare Windows Password Genius Raid for resetting forgotten admin password on raid server computer. This password software is easy to use, but is not free. It integrates drivers for most of raid controller, so it works fine with server computer and personal computer. Every time I forget password to my computer, I use it fix the problem in a few minutes.
It is easy to use, and the user guide on iSunshare official site is very clear and easy to learn, so I don't show you how to use it in this article. For step by step guide, please see 3 Steps to Reset Windows Password with Windows Password Genius