Forgot or lost the only Microsoft account password on Windows 8 computer? Don't be anxious. Microsoft and Windows Password Genius could help you to easily reset it and bypass forgotten Microsoft account password to login Windows 8.
Method 1: Bypass Windows 8 Forgotten Microsoft Account Password on Microsoft
If you have forgotten and wanted to bypass Microsoft account password free for Windows 8 logon, please go to Microsoft account password reset page and reset a new password for Windows 8 Microsoft account. This is a service provided by Microsoft, usually used to reset Microsoft account forgotten or lost password.
1. Choose reason why you have to reset Windows 8 Microsoft account password.
2. Enter Microsoft account and verification code, click Next.
3. Select an email to receive security code for verifying your identity. Click "Send code".
4. Sign in email and check security code.
5. Copy security code sent from Microsoft and type it on password recovery page.
6. Enter new password for your Microsoft account. Click Next.
7. Until you see "Your account has been recovered" message, you can finish Windows 8 Microsoft account password reset. Now you can click "Next" to directly login Microsoft account with new password, or enable two-step verification for Microsoft account.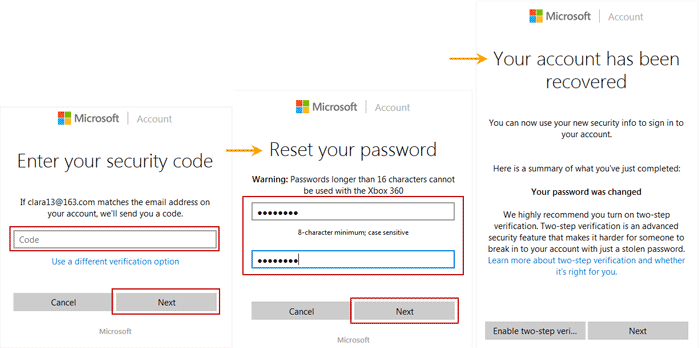 Turn to Windows 8 login screen, type new password to access Windows 8 computer.
Method 2: Bypass Windows 8 Microsoft Account Password with Reset Disk
If you have Windows password reset disk, no matter it is created on Windows 8 computer when it is accessible, or burned with Windows Password Genius Advanced, it would be easy for you to change Windows 8 Microsoft account password. So you can bypass forgotten Microsoft account password to sign in Windows 8. At the same time, you can change local user account password and create new administrator for Windows 8.
Now suppose you have had password reset disk for Windows 8, let's see how it help to bypass Windows 8 Microsoft account forgotten password.
Tips: If you have no password reset disk, download Windows Password Genius Advanced and follow the password reset disk creation guide to create one.
Step 1: Plug password reset USB disk or CD disk into locked Windows 8 computer.
Step 2: Set Windows 8 computer boot from reset disk and Windows Password Genius Advanced will run on locked computer.
Step 3: Select Microsoft account and tap "Reset Password".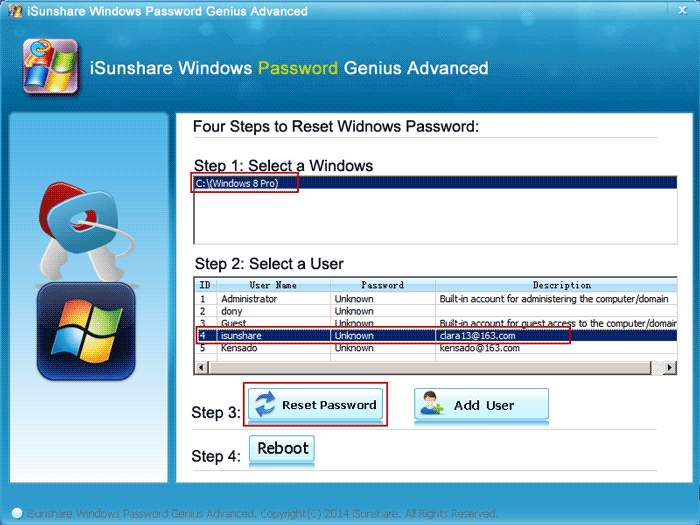 Step 4: Click "Yes" on pop-up dialog asking you if you want to set this user password to iSunshare@2012.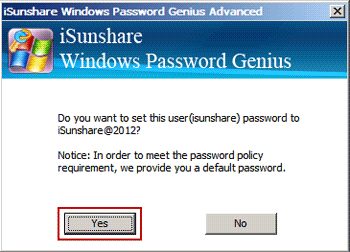 Then Microsoft account password would be changed to be default one "iSunshare@2012". Instantly you can see it in user list of Windows Password Genius Advanced.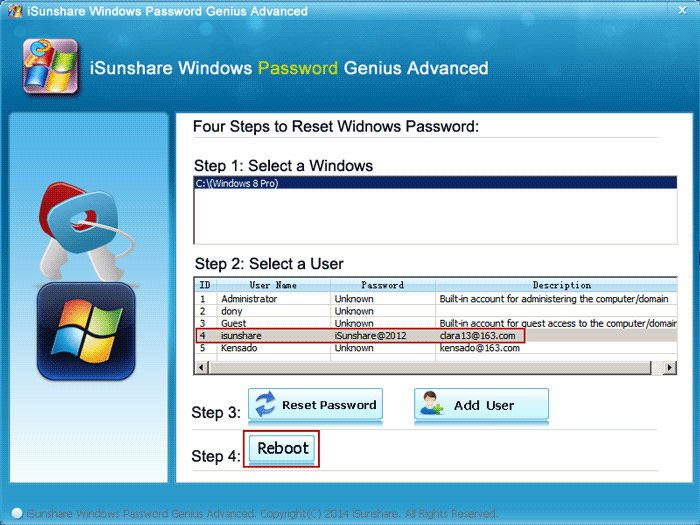 Step 5: If you don't want to create new user, click Reboot" now and Yes to confirm restart Windows 8 computer. And please remember to eject Windows password reset disk before Windows 8 really starts successfully.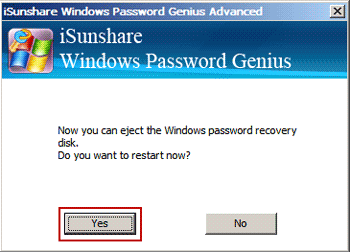 Now how is your Windows 8 Microsoft account logon problem? Could you bypass its forgotten password to login computer at this moment? If not, just go to follow the article above.
Related Articles: