Once your iPhone/iPad/iPod etc iOS devices connect to Mac or Windows, the iTunes will automatically back up your devices data and save the backup in the default location, the system hard disk.
So as you see, if you usually connect your iOS devices to computer, lots of iTunes backup will be created and most of them probably are not different but they still occupy computer space. In order to free the space to improve system performance, you just could delete the unwanted iTunes backup file.
Common way to delete iTunes backup file by iTunes on both Windows and Mac:
1. Find the iOS devices backup from iTunes.
On Windows, choose Edit > Preferences > Devices in iTunes menu.
On Mac, click iTunes in top menu bar and choose Preferences > Devices.
In pop-up Devices Preferences dialog, you can see all of the device backups.
2. Delete one or all of iTunes backup in iTunes.
Select the backup you want to delete from list, and click Delete or Delete Backup button. If you are not sure, you can show in finder to view its details at first.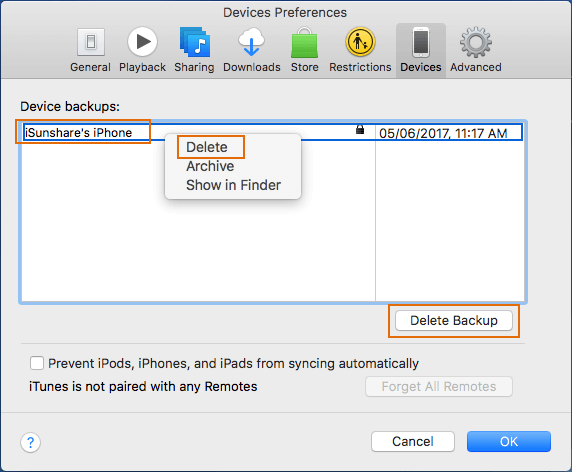 Besides, you can also follow another way to respectively delete iTunes backup file on Mac or Windows, according to the way to locate iTunes backup file on Mac and Windows.
Section 1: Locate iTunes backup file on Mac and Windows
For Mac:
Press Command + Shift + G to open Go to Folder dialog.
Enter the default backup location ~/Library/Application Support/MobileSync/Backup/. And click OK to go to the folder that saves all of iTunes backup file.

No matter iTunes backup file is hidden or not, you can find them with this way. More details in 2 ways to locate iTunes backup file on Mac OS X.
For Windows:
Open Computer and enter the default address in the address bar. Press Enter and you will be gotten to the iTunes backup folder on Windows computer.
Windows 10: C:UsersUSERAppDataRoamingApple ComputerMobileSyncBackup
Windows 8/8.1/7/Vista: C:UsersUserNameAppDataRoamingApple ComputerMobileSyncBackup
Windows XP: C:Documents and SettingsuserApplication DataApple ComputerMobileSyncBackup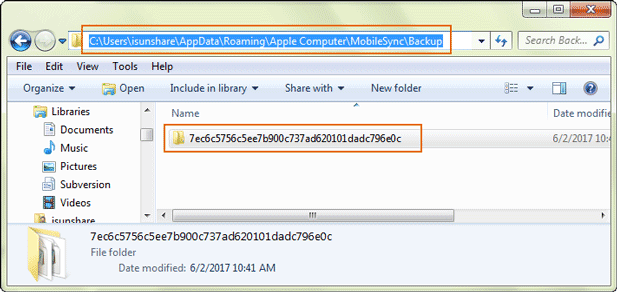 Section 2: Delete specific or all iTunes backup file on Mac and Windows
Open the folder named with several characters and numbers and you can see the file "Manifest.plist". If you decide to delete iTunes backup file, choose such a folder to delete.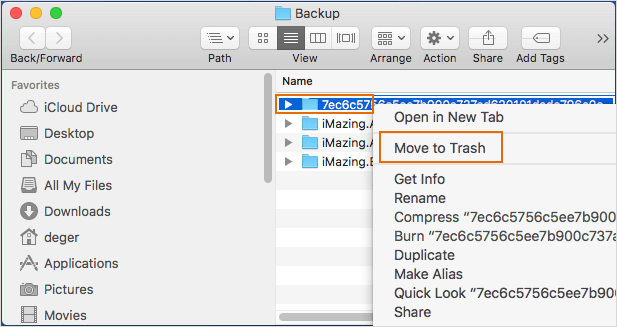 Note:
After iTunes backup file deletion, the iTunes backup file password will be removed at the same time. So when you connect iOS devices to make a backup through iTunes after that, you will need to create a new password to encrypt iTunes backup.
Related Articles: