If you have problem with NanoStation M2 or other model on this segment there are 2 way to do hard reset to default settings.
First way: connect your device to pc or notebook and enter this  ip adress: 192.168.1.20 or other one you set > enter login and pass (ubnt by default)> choose "SYSTEM" menu > Press "Reset to Default". Then just wait.
The second way we recommend to do when you forgot your password or cant connect to Nanostation via WEB. To do it please connect it to pc or notebook and turn on. Then you will need to press "Reset" near main lan port and wait 8-15 second. When done you will see all indication lamp will blinking few times. On some device the reset button on POE (see pic):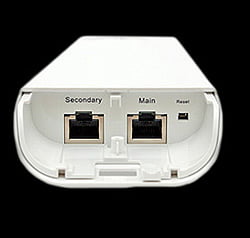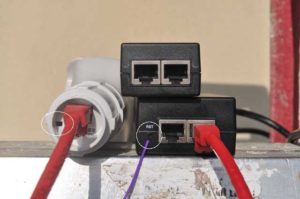 Sometimes after resetting user cant connect to Nanostation m2 and if you are one of them so maybe this information will help you:
check cable connector (anyway)
Set the lan ip(ipv4) to 192.168.1.21
sub net mask 255.255.255.0
default gate way 192.168.1.20  (where to do it? > connection setting > TCP/IPv4 )
Thanks for attention. Hope this info will useful for you ?