How can I do if HP laptop password forgot and no user account can be used to login this laptop pre-installed in UEFI boot mode? And it is running Windows 8 64-bit operational system.
While this problem occurs, we should confirm that if it is really pre-installed in UEFI boot mode and what kind of user account password wanted to reset, local account or Microsoft account.
Since Microsoft account can be reset on Microsoft account password reset page, so if you just need to reset forgotten Microsoft account password for HP logon, this way is OK. Surely, if you feel it difficult, or you would like to reset Windows 8 local account and Microsoft account password at one time, Windows Password Genius Advanced is recommended.
First, burn a password reset disk with bootable USB drive or CD/DVD-ROM.
Get Windows Password Genius Advanced full version and install it on available computer. Now you can run program and insert bootable USB drive (or CD drive) into this computer. Choose "USB device" and burn ISO image file into plugged device.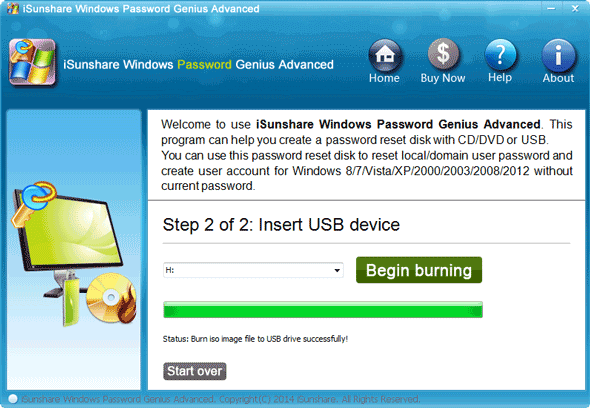 Second, set locked HP laptop boot from USB drive (password reset disk).
Plug the bootable USB device into your Windows 8 locked HP computer. And make some changes on computer to set it boot from USB drive.
1. Power on locked HP computer.
2. As soon as HP welcome screen appears, immediately press F10 to enter BIOS setup window.
3. In BIOS Setup, choose Security tab and select Secure Boot Configuration.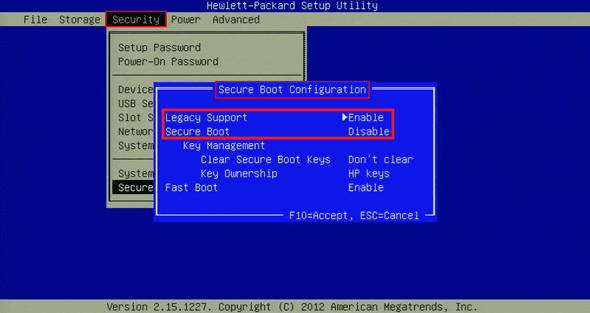 4. When the Secure Boot Configuration warning displays, press F10 to continue.
5. Enable the Legacy Support option if it is disabled. And disable the Secure Boot option.
6. Change the boot order to removal USB device and press F10 to save changes. And HP laptop will boot from USB drive burned with password reset disk.

If it is the HP notebook computer with UEFI BIOS, it would be little different from above operations. When you turn on HP notebook, please repeatedly press ESC instead of F10 until the Startup Menu opens. Then select the System Configuration menu, and choose Boot Options. Press Enter and disable Secure Boot option. Choose USB drive as priority boot device, and save these boot settings.
Third, reset Windows 8 forgotten password for HP laptop with UEFI BIOS.
Now, believe you have seen Windows Password Genius Advanced running on your locked HP laptop. It identifies the operational system on HP laptop and lists all users (including local account and Microsoft account).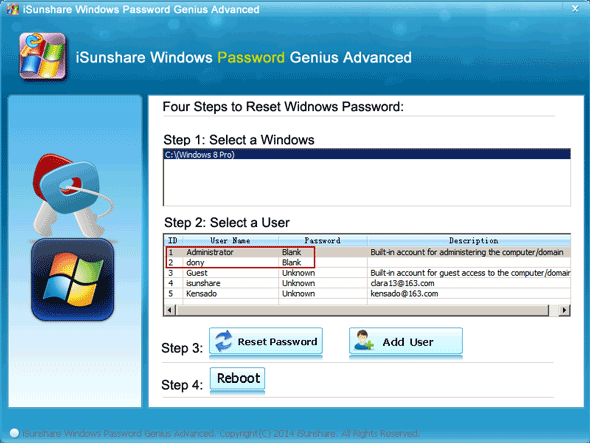 While you choose local account and click on Reset Password button, the password will be removed. If you select Microsoft account and tab "Reset Password" button, forgotten password will be reset as "iSunshare@2012".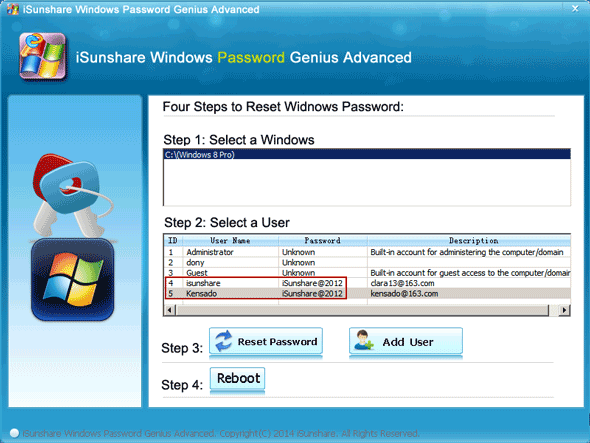 Reboot HP laptop and eject bootable USB reset disk, but please remember to change the boot mode from Legacy to UEFI. And restart Windows 8 again to login HP laptop without password or new password, depending on the login user type.
Why Windows Password Genius Advanced can so easily reset all user passwords for Windows 8?
Only because of the password reset disk it creates, the disk can search the SAM registry file automatically in HP Windows 8 system, and list all the users and their password status exiting in locked HP laptop. And password reset disk have privileges to change Windows user password. So you can easily reset Windows 8 forgotten password for HP laptop after Windows Password Genius Advanced burned into bootable USB or CD drive.
Related Articles: