I have bought my grandpa a dell laptop with Windows 8 pre-installed. He changed the administrator password, but didn't remember it and write the password down at any place. Now I have tried many ways to boot the laptop. However, they didn't work well. How can I reset or recover forgotten win 8 password.
Forgot Windows 8 administrator password and locked out of dell laptop or PC? How to reset forgotten password for Dell laptop with UEFI BIOS, which replaces the legacy BIOS present in all Windows computers ever used before?
To solve this problem, actually you just need an available Windows password reset disk and learn how to boot locked Dell laptop from reset disk. So this tutorial will tell you how to use USB drive to create a password reset disk and show how to boot UEFI-based dell computer from USB drive step by step.
Step 1: Create Windows password reset USB drive.
First, get Windows Password Genius Advanced full version exe file. After installing and launching it on accessible computer, burn it to blank bootable USB drive. Then you have a powerful password reset disk for Windows 10/8/7/Vista/XP and Windows server password reset.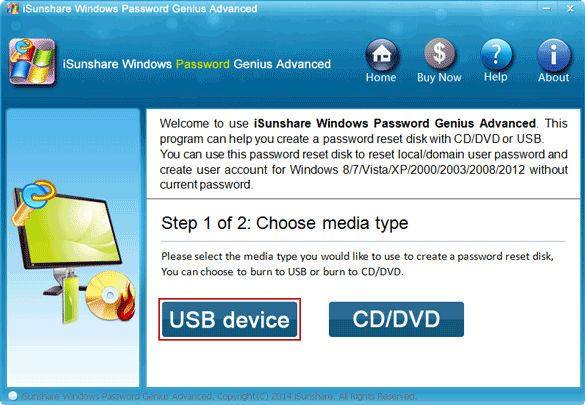 Step 2: Set UEFI-based Dell PC boot from USB drive.
Dell PC is pre-installed Windows 8, so it will automatically boot in UEFI mode, if you don't change boot settings. In order to successfully boot dell PC from Windows password reset USB drive, you need to switch the boot mode from UEFI to Legacy and disable Secure Boot option.
1. Insert Windows password reset USB drive into Dell PC. Power on dell computer and press F12 (F2 or Del) key to enter BIOS Setup Utility.
2. Choose BIOS Setup option and under BIOS Setup Utility, select Boot tab and disable Secure Boot Control option.
3. Navigate to Boot Mode option. Press Enter to switch boot mode from UEFI to Legacy. Press F10 to save changes.
Tips: In some dell computer, you can select "Boot" tab and highlight LEGACY BOOT and disable Secure boot.Then save changes by pressing F10 key.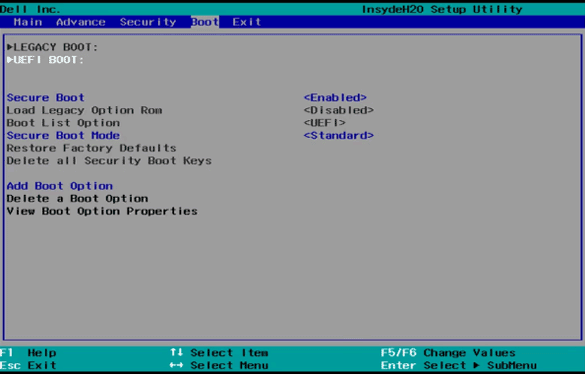 4. Press F12 to open Boot Menu again when Dell computer restarts. Select USB flash drive shown in the boot list, and press Enter. Or move USB drive to the first place in Boot priority order and press Enter.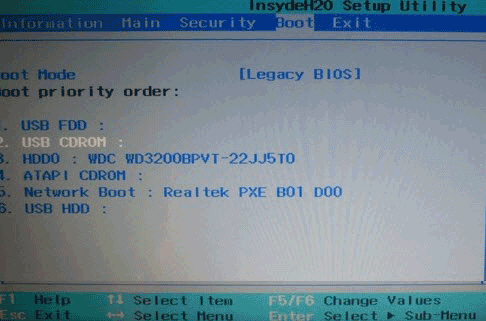 The computer will boot from USB flash drive immediately and Windows Password Genius Advanced program runs, which reloads Windows system information and Windows all user accounts.
Step 3: Reset Windows 8 Forgotten administrator password for Dell PC.
In user list displayed in Windows Password Genius Advanced, select Administrator and click Reset Password button. It prompts you that administrator password will be blank after you click Yes.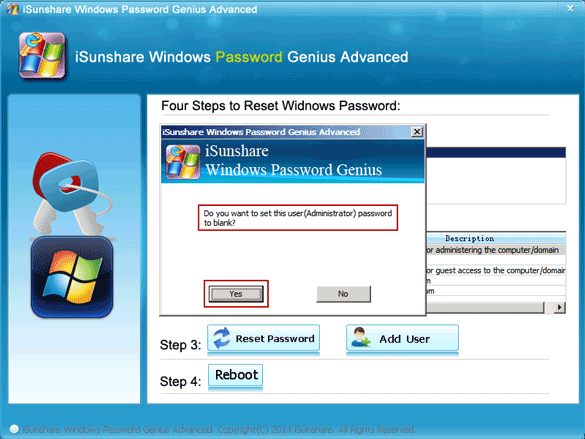 After Windows 8 administrator password reset, you can reboot dell pc and exit USB drive. But before entering Windows 8 logon screen successfully, you will need to restore Boot mode to factory default, UEFI mode. Then you can restart dell pc and login it without password.
Related Articles: