Some time ago, Apple released the annual operating system upgrade – IOS 12. It will make your device more fluency and intelligent. Let's see what's new and learn how to upgrade to IOS 12 or downgrade from IOS 12.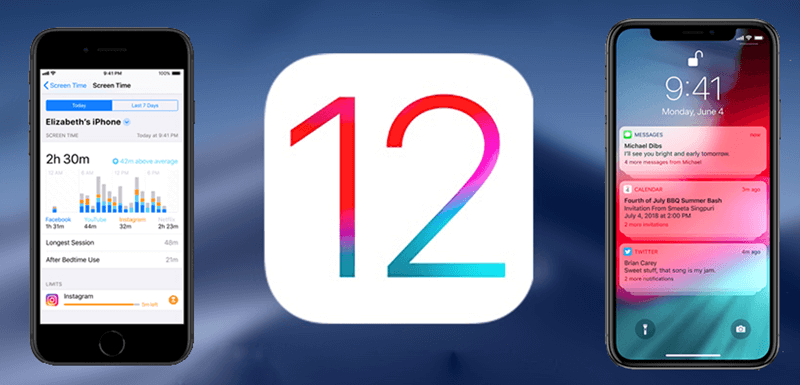 IOS 12 New Features
1. Performance
IOS 12 will improve your device as old as iPhone 5S. The camera will be 70% faster to open, applications will be 40% faster to run, and the keyboard display will be 50% faster.
2. Memoji & Animoji
There is more fun to create Memoji & Animoji that match to your mood in the Messages and FaceTime.
3. Camera Effects & Photo Sharing & Photo Search
The in-app camera provides multiple effects to help you enliven conversations. Moreover, IOS 12 add the For You tab to share your pictures. The photo search feature can quickly find your forgotten moment by intelligent suggestion or keyword search.
4. AR
ARKit 2 can create an immersive and enhanced experience. A new app using AR technology called Measure can measure the distance between two objectives.
5. Screen Time
The screen time can better manage you and your children's time spending on your device.
6. Notifications
IOS 12 allows users to manage their notifications from the Lock screen that reduce the unnecessary interruptions.
7. Do Not Disturb
While we are sleeping, we don't want to be disturbed by messages, or calls. Now you can open the Do Not Disturb to customize when DND ends.
8. Siri Shortcuts
Siri Shortcut is an unexceptionable way to schedule and speed up your day.
Siri will provide you with some suggestive actions based on your third-party application.
Compatible Device for IOS 12

Is It Worth to Upgrade to IOS 12 for My iPhone or iPad?
Above we talked about new features of IOS 12. Nevertheless, Is it worth to upgrade to IOS 12 for your iPhone or iPad? Here are some issues and bugs after upgrade to IOS 12.
IOS 12 causes your devices overheating;
Some apps may not work after upgrading;
Jailbreak is not available at present;
Siri sometimes doesn't wake up while your screen is locked.
How to upgrade to IOS 12 with or without IOS Computer
You can walk through the following easy ways to upgrade to IOS 12.
IOS 12 Upgrade Preparation
If you want to upgrade to IOS 12 but afraid of losing your data, you can try to back up files to the iCloud or iTunes. Once IOS 12 is not suitable for your device, you can downgrade to IOS 11.
Way 1: Upgrade IOS 12 wirelessly
Connect your device with power and access the internet via Wi-Fi;
Navigate to Settings > General > Software Update;
Tap on Download and Install. When it finishes downloading, touch on Install to upgrade to IOS 12. Input your passcode if it is necessary.
Way 2: Upgrade to IOS 12 by iTues
Check if your iTunes is up to date;
Plug your iPhone/iPad/iPod touch to computer;
Open iTunes and select your device;
Click on Summary > Check for Update > Download and Update;
How to Downgrade from IOS 12 without Any Data Loss
If your device can't run IOS 12 well, Apple also allows you to downgrade to the formal edition.
Connect your device to PC and click on Restore in the prompt;
Click on Restore and Update;
Click Next > Agree button to download an old version IOS.