Lost Windows 8 administrator password and cannot login Asus computer? Is there any way that can reset lost Windows 8 admin password without Asus PC factory reset?
Now this article will tell you how to choose one effective and safe way for UEFI-based Asus Windows 8 password reset, even though there have been lots of utilities applying to Windows password recovery. But undoubtedly the common and easiest tool should be password reset disk. If you have none, just follow below to create one with Windows Password Genius Advanced and reset lost Windows 8 password for Asus computer.
Preparation:
Download Windows Password Genius Advanced. Better to get its full version so as to successfully reset windows password.
Install and run the program on another accessible computer. Then insert bootable USB or CD drive into this computer. Select USB device or CD/DVD and burn Windows Password Genius Advanced ISO image file into drive.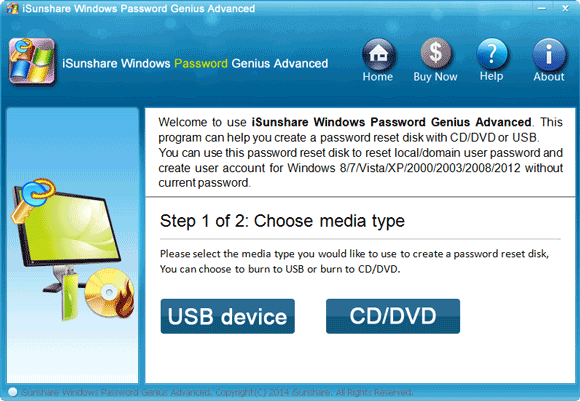 Now password reset disk has been created with USB drive or CD/DVD-ROM. Be ready to reset your Asus PC lost password using it.
Step 1: Boot locked UEFI-Based Asus computer from USB drive.
Plug the USB drive (or CD drive) into your locked Windows 8 Asus computer. Then we need to do something that can change computer boot settings, in order to get Asus computer to boot from the flash USB drive.
1. Turn on Asus computer.
2. As soon as Asus logo appears, immediately press Del/F2 to enter BIOS setup.
3. Select Boot tab, and press CSM (Compatibility Support Module) under Setup Mode and enable it.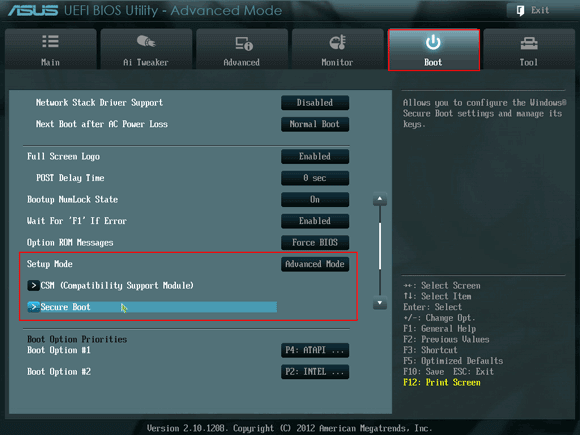 4. Next to it, change Boot Device Control to UEFI and Legacy.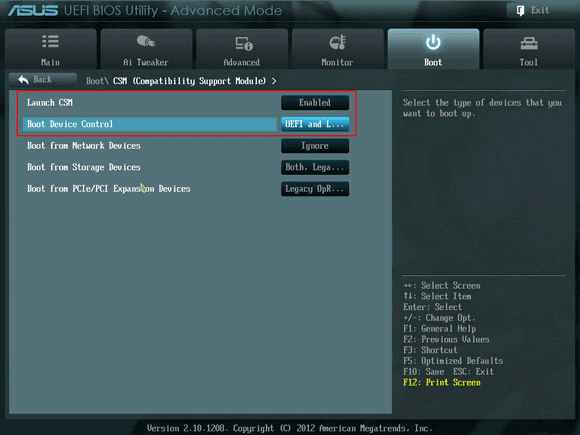 5. Turn back to Setup mode and select Secure Boot to disable it. Save changes and exit BIOS setup.
6. Power off your Asus computer and turn it on again. Quickly press ESC key to access Boot Menu. Choose your inserted USB drive and press Enter.

Or press F2 key to enter BIOS setup again, and set bootable USB drive as the first boot option.
Step 2: Reset Win 8 lost administrator password for UEFI-Based Asus PC.
After locked Asus computer successfully boots from the USB drive, iSunshare Windows Password Genius Advanced program opens up and displays all of local user accounts and Microsoft account on your Asus computer.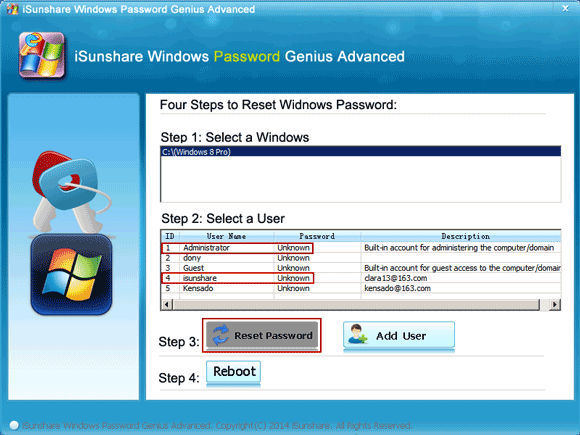 1. Select the local user account and click on "Reset Password" button, the user password will be set to blank.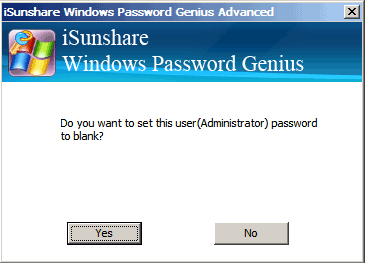 2. Choose Microsoft account and click "Reset Password" button, the account password will be reset with default password "iSunshare@2012".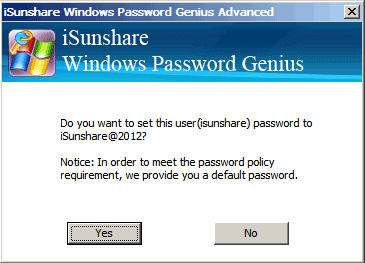 Reboot computer now and finish unlocking UEFI-based Asus PC with Windows Password Genius. But remember to exit the password reset disk from Asus computer before it restarts successfully, and restore BIOS settings to factory default, otherwise you will need to reset Windows 8 password again like above and Windows 8 won't boot successfully.
Related Articles: