Are you still using a numeral password or PIN code to protect your computer? That really stands out! They are not only easy to lose but also unsafe. No worries, here you can protect your device with a Microsoft latest feature called Windows Hello instead. Let's guide you to learn about what Windows Hello is and how to set up Windows Hello in Windows 10 with ease.
What is Windows Hello?
Windows Hello is a personal way that admits user to log into Windows 10 by recognizing your fingerprint, face or iris. It requires your device has a webcam or fingerprint scanner that works. Moreover, you need to add a PIN code before you set up Windows Hello in Windows 10. With Windows Hello protects your computer, we can log in Windows computer even though forgot login password.
Can Windows Hello Fooled by Picture or Twins?
When it comes to Windows Hello, most people would probably concern about whether it is secure enough. Can Windows Hello fooled by picture or twins?
Certainly not. Windows Hello can get you while deceiving better than your girlfriend. It uses biometric authentication technology and works on point projection that can distinguish photos and actual face. Besides, an Australian worked on six sets of twins to see if the Windows Hello with RealSense installed can recognize them. In each pair, only one can register on a computer with his/her face then unlock Windows with the unregistered one. It turned out that Windows Hello can distinguish easily and quickly.
How to Set up Windows Hello in Windows 10
Here are a few steps to set up Windows Hello in Windows 10.
Step 1: Navigate to Start > Settings > Account > Sign-in options.
Step 2: Under the Windows Hello, you can set up face, fingerprint, or iris authority for
Windows 10. Then you can sign into Windows by a simple look or tap.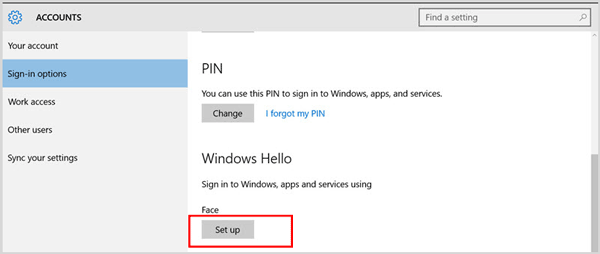 Fix "Windows Hello isn't available on this device" error Windows 10
Sadly, some computer would encounter "Windows Hello isn't available on this device" error Windows 10. Take it easy you are not alone. Here's how to do: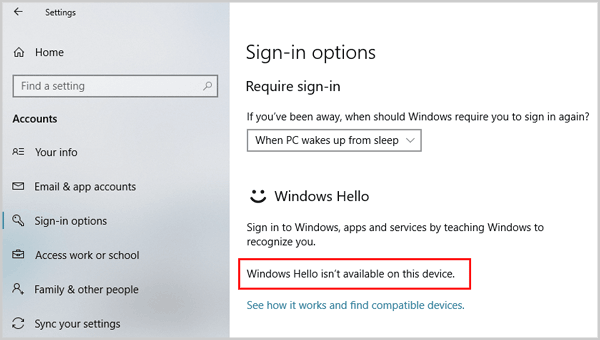 Step 1: Hit Windows + X and select Device Manager from the result.
Step 2: Locate to Bio-metric finger print reader and right-click on it then choose Properties.
Step 3: Go to Drivers tab and click on Update driver software. Restart your PC to check if it works. If not, continue with the following tutorial.
Step 4: Go to Start > Settings > Update & Security.
Step 5: Under the Windows Updates section, click Check for updates. Install the latest version of Windows to your computer.
Fix "Windows Hello Can't Turn on Camera" Windows 10
When Windows 10 tells you that it can't find your camera, we can solve the problem in Registry Editor.

Step 1: Hit Windows + R to invoke Run dialog and type regedit and click on OK button.
Step 2: Expand HKLMSoftwareMicrosoftWindowsCurrentVersionDeviceAccessActivePolicyCode and delete the ActivePolicyCode key.
Step 3: Following the folders below: HKCUSOFTWAREMicrosoftWindowsCurrentVersionDeviceAccessS-1-15-2-19479607-1015771884-3827151630-3301822711-2267158487-4079414233-1230461222E5323777-F976-4f5b-9B55-B94699C46E44Value
Double-click on Value to change the Prompt to Allow.
Step 4: Restart your computer and repeat the steps of How to Set up Windows Hello in Windows 10 above.