After Windows 8 login password, admin password and Microsoft account password lost on Toshiba computer pre-installed in UEFI boot mode, it seems that there is no way to access computer longer.
But if it is real no way to reset windows 8 lost password? The answer is surely no. So we can find an effective method. For example, Windows Password Genius Advanced could create a password reset disk for Windows password reset at any time.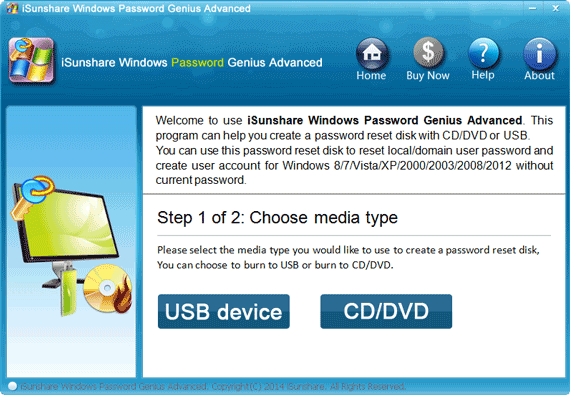 1. Install and run Windows Password Genius Advanced full version on another computer.
2. Insert prepared bootable USB drive or CD/DVD drive into the accessible computer.
3. Choose "USB device" or "CD/DVD" on program and select inserted drive. Then click "Begin burning" button to burn ISO image file into USB drive or CD drive.
When you see "Burning successfully" message, password reset disk has been created successfully. Take the disk out of computer and be ready to reset Toshiba PC or laptop lost password.
How to reset Windows 8 lost password for UEFI-based Toshiba computer?
Because of locked Toshiba computer preinstalled in UEFI boot mode, so if you want to boot computer from password reset disk and reset Windows 8 password, you have to make some changes with computer in order to get computer boot from USB drive or CD/DVD (Example: USB drive).
Insert bootable USB reset disk into locked Toshiba computer.
Power on computer and when Toshiba logo appears, press F2 key to enter BIOS Setup.
Select Security tab in BIOS Setup Menu and disable Secure Boot.
Switch to Advanced tab and go to System Configuration option. Change Boot Mode from UEFI Boot to CSM Boot.
Press F10 to save changes and exit BIOS Setup.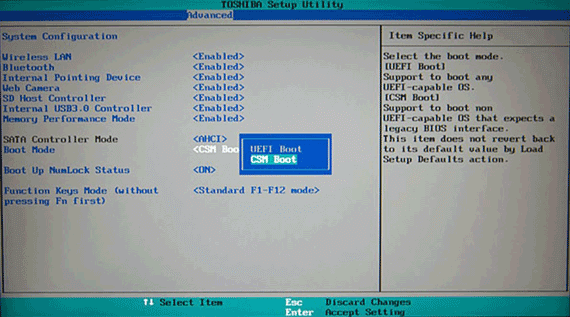 It is worth to mentioning that above UEFI BIOS settings cannot help all Toshiba computers boot from USB drive or CD/DVD drive. On some Toshiba computer, probably you need to change settings after entering BIOS Setup following introductions below.
Choose Boot tab in BIOS Setup, and enable Launch CSM option and disable Fast Boot option or UEFI Boot option.
Switch to Security tab and disable Secure Boot Control. Then press F10 to save changes.
When exit BIOS Setup and computer restarts, please quickly press ESC or F12 key repeatedly until you see Boot Menu. Choose USB drive in Boot Menu and let Toshiba computer boot from USB drive. The disk helps to load Windows system information, and all user accounts information.

Choose the user account you want to reset password in user list. And click on Reset Password button. If it is local user account, its password will be blank. If not, its password will become default password "iSunshare@2012".
Now click Reboot button on Windows Password Genius Advanced and eject USB drive. When computer logo appears, press F2 to enter BIOS Setup again to change boot mode back to UEFI Boot. Save changes and exit BIOS Setup, then you could restart Toshiba successfully and login computer without password or with new one "iSunshare@2012".
Related Articles: