I would like to sell my Sony Vaio laptop to my friend. But it is locked so that I cannot get the content in Sony laptop to my new laptop. This Sony Vaio laptop is pre-installed in UEFI Boot mode. How can I access it to safely export files and folders from Sony Vaio laptop?
In order to take out files from Sony laptop, we should unlock Sony laptop by resetting or removing Windows 8 login password, which needs a password reset disk.
Such password reset disk can be created in accessible Windows computer or with Windows password recovery program. In this situation, only Windows password recovery tool can help. So don't be hesitated to get Windows Password Genius Advanced on your new laptop and create a password reset disk with it for Sony laptop.
Section 1: Create password reset disk with Windows Password Genius
After installing Windows Password Genius Advanced full version on computer, you would find there is an ISO file in the installation directory. You can burn it into bootable USB drive with UltraISO. Or directly run Windows Password Genius to burn it into blank USB drive with the help of program burning feature. Password reset disk will be created and saved in USB drive.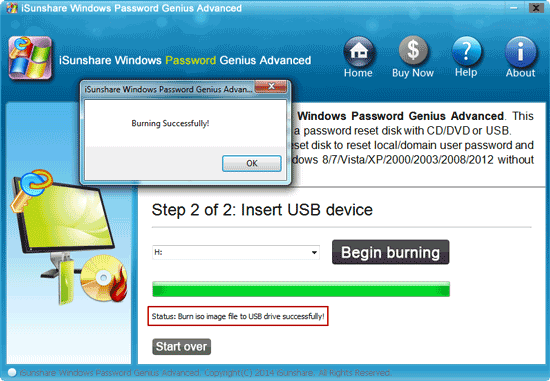 Section 2: Set locked Sony laptop boot from USB drive – password reset disk
Plug the USB drive into locked Sony laptop, and follow steps below to make some changes for booting laptop from USB drive.
1. Power off the Sony laptop and press Assist key to enter the VAOCare Rescure Mode Boot screen.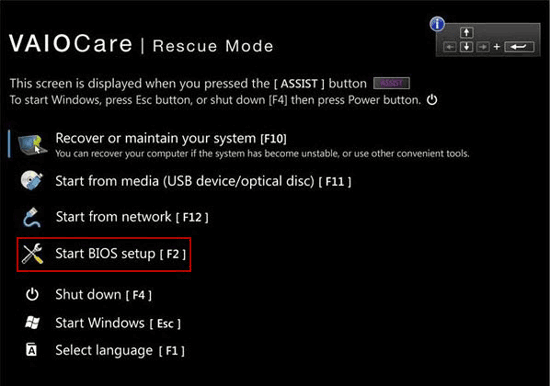 2. Select the Start BIOS setup [F2] to proceed to the system BIOS.
3. Once entering BIOS Setup Utility, select the Boot tab and Boot Mode option.
4. Press Enter to change boot mode from UEFI to Legacy.
5. Switch to Security tab, disable Secure Boot option and save changes.
6. Turn off Sony laptop and press Assist Key to enter VAOCare Rescure Mode Boot screen again.
7. Select option Start from media (USB device/optical disc) [F11] to start Sony laptop from USB drive.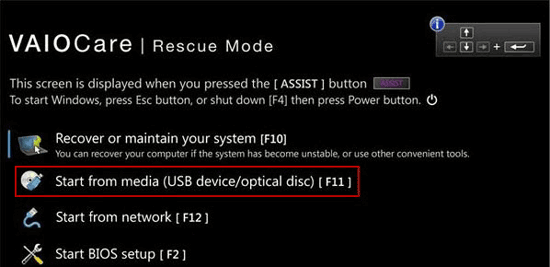 Instantly, Sony laptop will boot from USB drive and run Windows Password Genius Advanced, which locates Windows 8 all user accounts and their password status in list.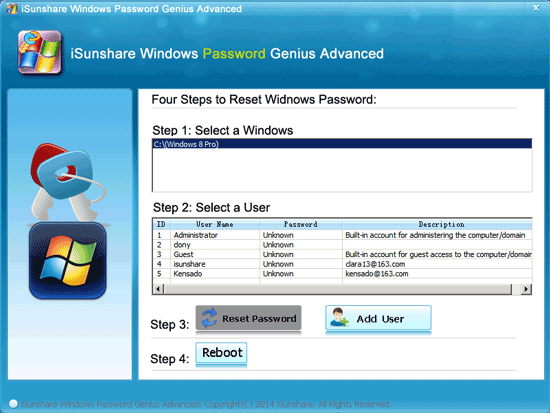 Section 3: Reset UEFI-based Sony laptop password with USB disk
Select user account in list and click on "Reset Password" button. The program will prompt you that the user password will be blank or to be "iSunshare@2012", which depend on account type.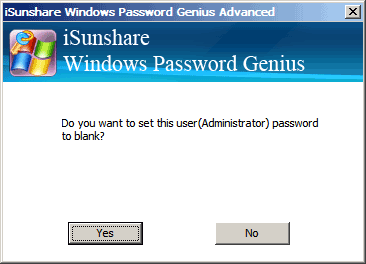 Reboot Sony laptop and eject the USB drive. But don't forget to restore Sony laptop boot mode to factory default, UEFI. Then you can successfully login Windows 8 Sony laptop without password or new password. Transfer any files or folders from Sony laptop to new laptop.
Related Articles: