"Does Windows server 2016 has default administrator password?? I lost login password for my company's HPE ProLiant ML10. I have to find back the administrator password, or I have to reinstall the system and all software. Need help!!!"
Many people forgot administrator password to Windows server 2016,and asked for the default administrator password. Unlucky, there is't a default administrator password for Windows server 2008, 2012 and 2016, because the password of administrator account must be set when installing or the first time used.
Although there is't a default password for Windows server 2016, we can reset the forgotten password by password software or tools. Through learning, I find the following ways work efficiently on resetting the lost password for Windows 2016 and other Windows system.
1. Reset lost password by setup disk
By this way, you need a USB flash drive and a workable windows computer. For step by step guide, see Reset Windows server 2016 password with setup disk
2. Reset lost password by iSunshare password recovery software
With iSunshare password software, you can easily create a USB password reset disk on Windows pc, Mac computer or rooted android phone, and recover lost password for Windows server 2016/2012/2008/2003/10/7/vista/xp. You can learn more from https://www.isunshare.com/windows-password-genius/.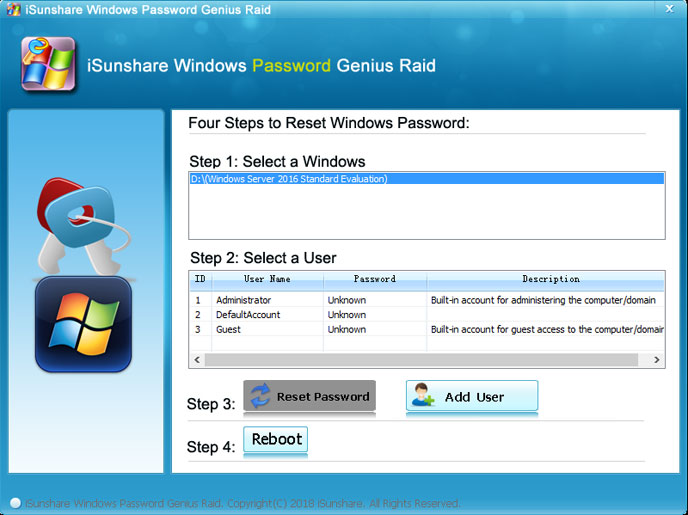 3. Recover password by Chnt-pw and Op-hcrack
Chnt-pw and Op-hcrack both are free software. They work fine with xp, 2000 and vista, but not very well with windows 10/8, and server 2016/2012, so I haven't used them for a long time. You can get them and have a try.
Related Articles: